Of all the functions that a founder and their team need real hands-on guidance with (operations, finance, commercial etc.), the "people" lane has been most underserved by the venture community. As a 20+ year early stage recruiting leader at companies like Google and Facebook, I see this firsthand now as someone who sits on the other side of the table. In New York specifically, there is a lack of "people" executives in venture, and very few investors have built teams and culture from the ground up in a scalable way. Founders are flying blind here as well, because it's often a role they haven't played yet in their career to date.  
"People" is Our Superpower
At Oceans, we are known for our superpower, people: hiring, managing, growing, compensating, goaling, communicating, all of it. Ultimately, we bet on people when it comes to building a business—which then drives our confidence for investment.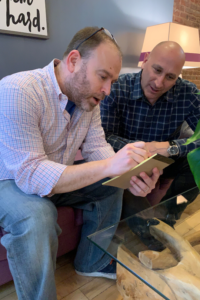 Using our Experience to Support Our Founders
When I hired the first feet on the ground for Facebook in markets around the world, I needed to ensure those people were set up for success driving at 150/mph with no people to lean on and no net…similar to startups today. 
I built processes and POVs, optimized and scaled as my team grew from one recruiter in a Regis office of 15 people, to 150 recruiters across 50+ offices around the world supporting 20,000+ employees for Facebook. But I was not alone; Brian on our team here at Oceans also had a very similar experience:
"In making the transition to Japan from Silicon Valley in order to build the market in Asia for my product line at Mentor Graphics, part of what had to be addressed was staffing—particularly in technical sales—due to growth and reshuffling of resources. While the operation in Japan was established and there was support (including HR), cultural divides with the U.S. parent remained, and needed to be bridged as the organization scaled. There was acknowledgment of the opportunity in front of the team, but how to grow and architect for it did not always align across borders. Adaptation and an appreciation for differences were needed, so processes slowed while this happened in order to set up the local team in the way the business required." —Brian Lew
These playbooks are now core to how we at Oceans help our founders. 
Before we even formally launched Oceans, we knew the people lane as a whole was a massive differentiator that we would need to focus on. And in our dialogue with the 200+ founders we met with, we learned quickly that the concerns were mutual. Do any of these sound familiar?
I have never hired anyone before—how do I even start that process?

I have never managed anyone—and now that's become my full-time job. How do I become a good manager?

Should I be hiring people that fit where I am today, or where I need to be three years from now? What's the difference? How do I ensure they grow with us as the organization grows?

What interview questions should I be asking?

How do I put together a job req?

I know what our north star is and what our mission is, but how is that different from values?

One of my venture partners told me to call this candidate because he/she is a great engineer, but we had an awful conversation because I don't know what I'm looking for. Now I think I've broken that relationship forever. 

My first sales hire (i.e. the first time I ever hired someone in sales) has been awful. It isnt working out—what did I do wrong and how can I make sure it doesn't happen again?

How do I determine compensation for someone, and what do I need to take into account? Should I offer equity? What does a variable comp plan look like and how do I ladder that up to other goals?
The list is long for all of the right reasons.
Simple Steps to Focus On
Building early stage leadership teams is not only hard, it's also something that should not be rushed. One bad hire can slow or kill a founder's momentum. These are decisions that can negatively impact the confidence a founder and their teams have around what happens on the next hire. I witnessed this with one of the earliest founders we partnered with. I was able to rework their process from the ground up, and help rebuild their leadership team across almost every function. Here's how we did it:
Re-worked all their reqs to more accurately document the skills and experience they wanted

Changed the interview process to ensure more screening was done on the front end, so that the team wasn't wasting critical cycles in on-sites with people who weren't a fit in the first place

Assigned specific focus areas to each interviewer so candidates weren't having redundant interviews

Focused on the candidate experience from soup to nuts, so candidates could really feel how special the company culture was in every interaction

Gathered feedback quickly and in an un-biased manner. Interviewers didn't see each other's feedback until they shared their own—this way we avoided groupthink.

Held hiring review meetings in a timely fashion in order to discuss the feedback live while it was still top of mind

Moved quickly, but with a purpose. Because we spent more time on the front end ensuring we knew what we were looking for, we closed on the right candidates who were just as excited to join the team as our founder's team was to hire them.

Made the offer process easy and transparent
If you spoke to that same founder today, they would say that their updated interview process (which led to their new team) is one of their biggest advantages as a company, helping them grow as a Founder, and helping the company scale successfully.  
Founders don't just want to be told what to do.
They want to be shown how to do it so they can fish and hire for themselves.  
Here's a quick example of what to do based on our experience with another partner last year. Their problem was they liked everyone they met, or they fell into a trap of just looking for someone to help—versus looking for someone who could impact the business in a meaningful way. Not uncommon, for sure. Here's how we helped:
First, lots of communication and strategy to really help them understand the entire process. The goal was to answer every question they had and get buy-in on why this is so important, and how each step in the process impacted the next. Some of those steps were:
Laying out a more structured process: by interview and by step

Giving examples of specific questions they should ask in interviews based on role and level

How to evaluate each person at each stage of the process

How to properly write feedback

How to share feedback so no one slips into groupthink

Best way to close someone in a less stressful way

Best way to onboard
Next, build a playbook based on all of the above.
Finally, move faster and more efficiently with each new hire by slowing down on the front end so you can fly on the backend.  
While many investors lack the experience, time, or desire needed to hire great people and build positive cultures, we here at Oceans have built this into our operating system. It's an expectation our founders can rely on and we know the impact it will have in the overall ecosystem and ultimately the success of an organization. If you're betting on people and teams, knowing the best talent ultimately wins, then you need to ensure the best process from the very beginning. This will serve as your foundation. 
We're open-sourcing our operating system so that startups everywhere have the tools & support they need to succeed. Follow us on LinkedIn for access to weekly insights from the Oceans team.